Run2Survive Zombie Fest 2015!
Energy Events has teamed up with the dead for a cool and scary 5k this Halloween. For those 21+ there will be a Zombie Fest after party with Kraken Rum, Cuervo Cinge tequila, and a local brew available.
Or maybe you are a little monster that loves Zombies? Well then, we have the Little Zombie Run just for you mini-ghouls aged 3-12. Monster energy drinks and other Non-Alcoholic beverages will be available for kids under 21.
Saturday, October 31, 2015 marks the date. Be a Zombie or Be a Survivor!
Event Location
---
Blue Lake Park
20500 NE Marine Drive
Fairview, OR 97024
HOW IT WORKS:
---
YOU CHOOSE: Be a SURVIVOR or be a ZOMBIE!
If you choose be a Survivor (or Runner)
You will start 5 minutes before the Zombies
Each Survivor will have 2 Lifelines (flags attached to a belt) – the goal is to outrun the Zombies and keep both your lifelines!
Once you lose all your flags, you become dead (NOT A ZOMBIE – read the rules!)
Zombies will be able to choose their positions in the race:
Chase – Will leave the start line 5 minutes after the Survivors - the goal is to chase Survivors and grab as many lifelines as you can
Course – Stationary Zombie – will be in specific location on the race course, grabbing lifelines as Survivors run by
RUNNER and ZOMBIE RULES:
---
If all of your flags have been taken, you are NOT automatically transformed into a zombie and you may NOT take another runner's flags, chase other runners, or pick up flags off the ground.
Direct and intentional physical contact with any runner or zombie is strictly prohibited. You are not to touch, hit, punch, tackle, roundhouse kick, slap, scratch, pinch, spit on, bite, or do anything harmful to the physical health of our zombies or other runners no matter the circumstance. Those in violation of this rule will be automatically disqualified and potentially escorted off of the grounds, without refund.
Flags MUST be visible to course officials and zombies (not covered by long clothing or tutus) and to be worn on the sides of the body.
Participants must wear their Run2Survive bib number clearly shown on the front of their attire. Participants will not be allowed to race without an official bib number.
Working as a team with friends, family, and strangers is allowed and recommended… it's the living vs. the undead. Use your juicy brains and the ones around you.
Visibly intoxicated guests will not be allowed to participate in the race. Please arrive to the event SOBER. (after you can surely take part in the Zombie Fest
This race is recommended for participants aged 12 and over. We are concerned that younger children will be scared within the atmosphere of the race with Zombies jumping out and chasing them. However, if you believe your younger child would be capable of participating, please send an email to registration@energyevents.com giving your permission for your child's participation and your acknowledgment of the race atmosphere.
This race is not a typical 5k, and therefore strollers cannot be out on the course. The goal of a Survivor is to evade the Zombies, and as such there will be people lunging and trying to grab flags – a stroller being in the middle of this would create a potentially dangerous situation for both participants and the child in the stroller. The terrain also prohibits the use of strollers as the course is unpaved.
Zombie Makeup Artist
---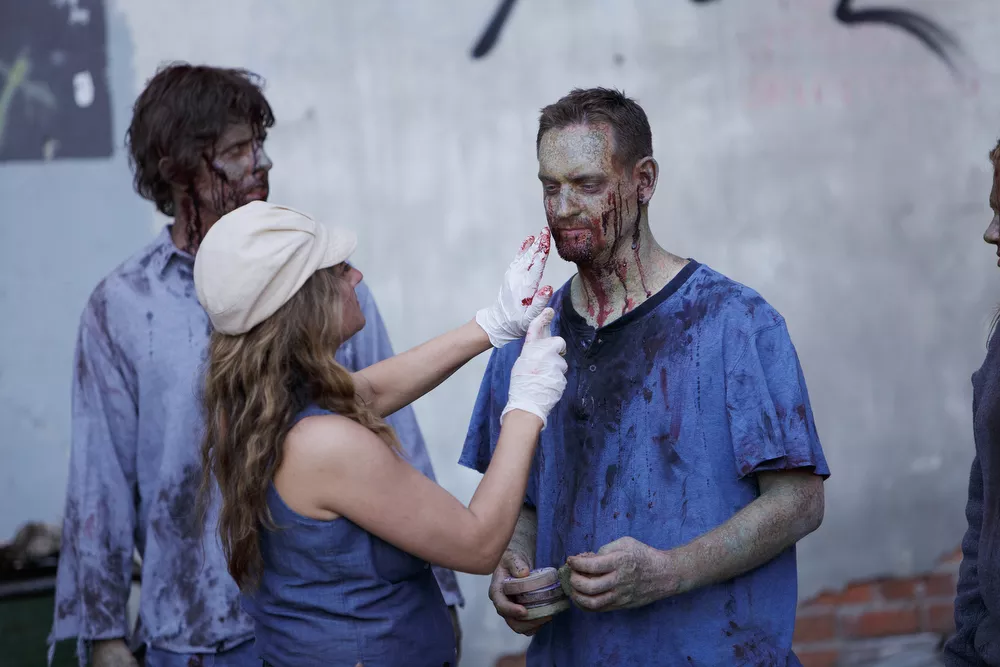 Makeup artists will be on-site to apply Zombie make-up. Make-up will be done on a first come/first serve basis – so come early. Please tip the artists – they are volunteering their time to make you super look super scary!
Volunteers!
---
If you would like to volunteer for this race, please register
here
. You can always contact our volunteer coordinator
Kathy
.
Thank you,
We Welcome
---
IPods – make sure you keep them low enough for you to hear Emergency Vehicles & Autos
Fun, Energy & Smiles!!!